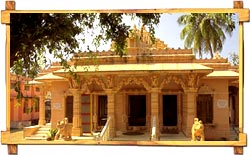 From the very beginning, various communities and groups have lived in peaceful harmony in the Cochin city of Kerala. This port city is like a melting pot of cultures and people from the Hindu, Christian, Muslim, Jews, Buddhists, Sikhs, Jains and other religions reside here. One finds religious places of different ethnic communities situated within a distance of few kilometers from each other in the city. Here's information about some worship places located in and around Cochin City of India.
Poornathrayeesa Temple
The famous Poornathrayeesa Temple is located at Tripunithura, lying at a distance of about 10 kms to the southeast of Ernakulam. Dotted with a number of temples, Tripunithura is often also referred to as the Land of Temples and the Poornathreyesa Temple is one of them. More.
Santa Cruz Cathedral
The Santa Cruz Cathedral not only happens to be one of the oldest churches in Cochin, but also in the whole of India. Counted as one of the heritage edifices of Kerala, this church is visited by tourists the whole year round. More.
St Francis Church
St Francis Xavier's Church at Fort Kochi was built in the year 1503, by the Portuguese traders. They came here with Admiral Pedro Alvarez de Cabral, via the same route taken by the legendary Portuguese explorer Vasco da Gama, who landed at Calicut in 1498. More.
Jewish Synagogue
The Jewish Synagogue in the port city of Kochi is the oldest synagogue in all the Commonwealth of Nations. Thus, it comprises the topmost slot in the itinerary of the tourists visiting the city. Malabar Yehudan People, or Cochin Jewish community, constructed this synagogue in 1568. More.
St George Ferona Church
St George Ferona Church is situated in Edappally, which is about 10 km from Cochin. It is a Roman Catholic Church built in the 594 AD, on a land donated by the Raja of Edappally. St George Ferona is counted amongst the oldest churches of Kerala. More.
St Mary's Church
Vallarpadam is a cute little islet located in the middle of the Cochin backwaters. This islet is a major Christian pilgrim center because of the St Mary's Church situated in the eastern region. It stands like a gem on the island's physique. More.