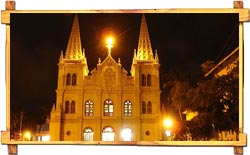 Location:
Fort Cochin
Highlights:
It is amongst the oldest churches in India and is also one of the eight Basilicas in the country
How to Reach Here:
You can access Fort Kochi by bus or boat from Ernakulam.
The Santa Cruz Cathedral not only happens to be one of the oldest churches in Cochin, but also in the whole of India. Counted as one of the heritage edifices of Kerala, this church is visited by tourists the whole year round. It was built by the first Portuguese viceroy, Francesco de Almeida, when he arrived in Kochi way back in 1505. On 3 May that year, during the feast of the "Invention of the Holy Cross", the foundation stone of this church was laid and upon completion, it was christened as Santa Cruz Cathedral.
Later on, when the Dutch conquered Cochin in 1663, they ruined all Catholic establishments except this particular cathedral and the famous church of St. Francis. In those days, the Santa Cruz Cathedral was used as an armory. It was, however, later shattered in 1795, after the British took over the city. An elaborate granite pillar of this monumental cathedral was what remained after the destruction of the Santa Cruz Cathedral. The pillar is still kept on the southeastern corner of the present Basilica.
When Bishop Dom Joao Gomes Ferreira was appointed as the prelate of Cochin in the year 1887, he took up the initiative to rebuild this Santa Cruz Cathedral. His efforts, however, could only be realized during the reign of his successor, Dom Mateus Oliveira Xavier. Dom Sebastiao Jose Pereira, the Bishop of Damao, sanctified the new cathedral on November 19, 1905. Recognizing its historic significance, Pope John Paul II raised the status of Santa Cruz Cathedral to a Basilica, on 19th December 1984.
At present, Santa Cruz Cathedral is one of the eight Basilicas in India. Recently in 2004, this cathedral completed its five centuries of existence. The architecture of the basilica is a blend of the Indo-European and the gothic style. The making of the pulpit and the wooden paneling of this cathedral is very impressive. Moreover, the Italian paintings dating from the time of the original foundation of the church adorning the interiors of the Santa Cruz Basilica give it a completely magnificent look.