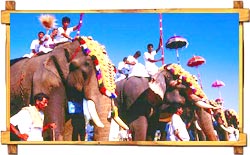 Location:
Tripunithura (10 kms from Ernakulam)
Highlights:
It is said to be built by the Arjuna of Mahabharata and is also famous for its annual festivals
How to Reach:
Cochin International Airport is located 20 km away. It is also well connected by road, rail and ferry from Kochi city.
The famous Poornathrayeesa Temple is located at Tripunithura, lying at a distance of about 10 kms to the southeast of Ernakulam. Dotted with a number of temples, Tripunithura is often also referred to as the Land of Temples and the Poornathreyesa Temple is one of them. It is said that the mighty Arjuna, of the legendary Indian epic Mahabharata, built this temple. The deity here is Maha Vishnu, who is reverently also called as Sree Poornathrayeesa. This temple is one of the three famous Vishnu temples in Kerala.
Apart from being a sacred place of worship for the Hindus, Poornathrayeesa Temple is also famous for its annual festivals. The main festival is the Vrishchikoltsawam, which takes place in the month of November/December. Apart from the usual procession of decorated elephants taken out on the fourth day, a golden pot is also kept on a raised platform. It is believed that the person who makes offerings here gets good luck in return.
The other popular festival celebrated here is the Athachamayam. It is held during the harvest festival of Onam and is celebrated with a lively procession and traditional dances like Pulikkali. During the celebration of both these festivals at the Poornathrayeesa Temple of Kerala, thousands of devotees come here. The history of the temple dates back to more than 10 decades ago, when it was almost ruined by a major fire during the early 1900s. The current temple is the revamped one.