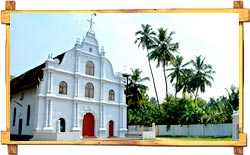 Location:
Edapally, located 10 km from Cochin
Highlights:
Annual festival in April - May
How to Reach:
The church is located 10 kms away from Cochin and is well connected by road and rail.
St George Ferona Church is situated in Edappally, which is about 10 km from Cochin. It is a Roman Catholic Church built in the 594 AD, on a land donated by the Raja of Edappally. St George Ferona is counted amongst the oldest churches of Kerala. The deity of this church is said to have the power of getting rid of snakes. Every year, a grand nine-day festival is celebrated here in the month of April - May. The church is also quite popular amongst the non-Christians, who also come here for veneration.
At the time of St George Ferona Church festival, numerous vendors gather to sell wares of different kinds, made mainly out of mud. This festival begins on the 23rd of April with a solemn High Mass and Litany. As each day passes, the divine aura in the festival is heightened with color and festivity. The parishioners too accompany the devotees in taking the festival gusto to its optimum. On 4th May, the idol of the deity is taken out in a grand procession, with the pilgrims throwing puri and beetle leaves as offering.
This nine-day festival at the St George Ferona Church near Cochin is a real majestic affair. When the stature of the church deity is taken out, band orchestra, different kind of Panchavadyams et al, accompanies it along with the devotees. Soul rending music and exciting fire works keep up the tempo of this festival. The entire ground temporarily transforms into a commercial venue with many little makeshift shops and vendors selling mud wares. People from all over the city flock to hear the sermons rendered during this festival.