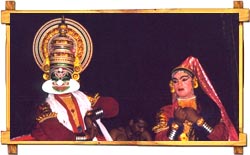 Cochin proffers you ample entertainment options. Having a rich colorful history, the port city of Kochi is marked with a number of ancient forts, temples, churches and other edifices you can see during daytime. There are queer little antique shops, where you can purchase gifts and memorabilia for yourself and your family. You can laze around or stroll along the beaches of Fort Kochi and Cherai during evenings. And in case you happen to be a night animal, then you can choose to hit any of the many pubs, auditoriums, Kathakali centers and cinema halls in Kochi city of India.
Auditoriums
Cochin, being the cultural hub of Kerala, is always bubbling with activities. In case you too are one of the arty types, then there are various auditoriums you should check out, in order to attend or participate in the ongoing cultural events. The local artists are frequently staging their programs here. More.
Art Galleries
Cochin is regarded as the hub of all art related activities in Kerala. There are many art galleries in Kochi city. With the art calendar of Kochi usually full of events, seminars and painting exhibitions the year round, most of these galleries are making a decent profit. More.
Cinema Halls
In case your sightseeing spree is over in Cochin and you still have a day or two left before packing off to some other tourist destination, it would be a really good idea to catch a Malayalam film. There are numerous cinema halls in Kochi, which showcase not only local Masala flicks, but also the new Bollywood releases. More.
Kathakali Centers
Kathakali is one of the oldest theatre forms in the world. This dance form originated in the south Indian state of Kerala and since Cochin is a developing important city, both culturally and commercially, Kathakali is quite popular among locals and tourists here. More.