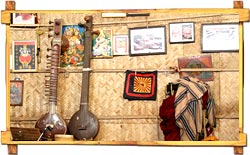 Kathakali is one of the oldest theatre forms in the world. This dance form originated in the south Indian state of Kerala and since Cochin is a developing important city, both culturally and commercially, Kathakali is quite popular among locals and tourists here. Infact, there many important Kathakali dance centers in Kochi, which not only render training in this art form, but also organize regular dance recitals. The Kathakali dance is presented in a group, the themes of which are based on Hindu Mythologies - particularly on epics - Ramayana and Mahabharata.
An interesting feature of Kathakali is that the make-up of the dancers is very elaborate. The dancers have to undergo a rigorous training as Kathakali involves a highly developed language of gesture through which they have to convey the story. Kathakali is well embedded in the art and culture of Kochi. To increase its popularity even more, a brief write up in English and Malayalam is distributed to the audience who come at the Kathakali dance centers of Kochi to watch performances. Here are the names and addresses of important Kathakkali centers in Cochin:
India Foundation
It is an important Kathakali dance centre here. It's located at Kalathiparambil Road, near the Ernakulam Junction Railway station. The daily dance show begins at 6.45 pm.
Cochin Cultural Center
Cochin Cultural Center is situated on Manikath Road, behind Medical Trust Hospital. Here, the daily show begins at 7 pm.
Kerala Kathakali Center
One can also catch the dance shows at the Kerala Kathakali Center in Fort Cochin.