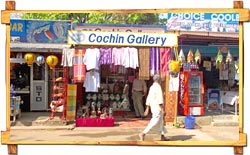 If you are confused over what to buy for yourself as souvenir or a gift for someone back home, then visit the enchantingly quaint little curio shops in Kochi city of Kerala. These shops sell small knick-knacks, which are characteristic of the South Indian city. Since Kochi is well known for its handicrafts, you will find a unique assortment of items like figurines, colorful bead jewelry, mat, bangles et al made from coir, wood, bamboo, shells, brass, ivory and sandalwood.
In all probability, your predicament over what to buy in Cochin should end here. Though the concept of shopping malls is relatively new in Kochi / Cochin, yet there are a number of places here, where you can find branded goods and garments. If you have a specific item in mind, better find out from a local person once you reach Kochi.
Tips on what and where to shop in Kochi:
At the beautiful Marine Drive, you can shop for perfumes, watches, bags, suitcases, music cassettes and CD's.
The Penta Menaka complex has a number of duty free shops that sell electronic items and mobile phones.
In case, you do not have time to visit many shopping places in Cochin, then just head for the famous MG Road, where you can buy various kind of goods like textiles, readymade garments, jewelry, toys, home furnishing, handicrafts, decorative items etc.
Broadway is famous for its clothes and spices.
The area around the Synagogue in Mattancherry is a major center of spice trade.
Online Shopping
Gifts to Cochin: Just in case you wish to send gifts to your near & dear ones