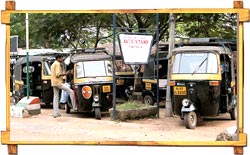 Kochi is dotted with some of the most exquisite forts and cathedrals of Kerala. Public transport in Kochi basically comprises of auto rickshaws, taxis, buses and ferry rides. Pick any one of these modes of local transportation for traveling within the city. Here's information about the local transport in Kochi city of Kerala.
Taxis / Cabs
You will find taxis pretty much all over the city. If you wish to tour Kochi by this, you can either ask the hotel you are putting up at, to arrange a taxi for you or contact any travel agency to hire one for yourself. Depending upon your budget, you can choose from any of the most luxurious to the cheaper taxis available.
Auto Rickshaws
Traveling within Kochi by auto rickshaw is the next best option for you. They usually charge by the meter or else, you can fix a rate according to the number of tourist sites you plan to visit.
Bus
If you are touring Kochi on a tight budget, go for the local buses that ply all over Kochi. Otherwise, you can also opt for the private luxury buses run by tour operators. Such buses are slightly expensive as they have comfy seat, are air-conditioned and accompanied by guides, who give you important information about all tourist sports.
Boats and Ships
Kochi has a coastline of about 48 km and is famous for its backwaters. The lush green lawns sloping down to the water's edge proffer a breathtaking view. If you too wish to savor this magnificent view of Kochi's backwaters, then boats are the best option for you.