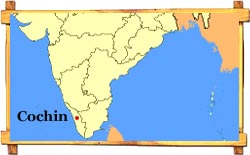 The beautiful port city of Kochi was formerly called Cochin. It is one of the important seaports of India, located in the Ernakulam district of Kerala. In the pre-British times, Kochi or Cochin confined itself to an area comprising of Mattancherry, Fort Kochi, Palluruthy and Thoppumpadi. But in present times, Kochi city comes across as an amalgamation of the Ernakulam mainland, old Kochi, Kadavanthra, the Edapally suburbs and the exurbia of Kalamassery and Kakkanad to the northeast; Tripunithura to the southeast, plus a few islands closely scattered in the Vembanad Lake.
Kochi city of Kerala has an estimated population of 6 lacs, with an extended metropolitan population of 1.5 million. Hindus form the largest community in Cochin, followed by Christians and Muslims. The city also comprises a small population of Jains, Jews and Sikhs. It is the second largest city in Kerala after the capital, Thiruvananthapuram. While Malayalam is the main language of communication and the primary medium of instruction in Kochi, English is more commonly used in the business circles. Hindi and Tamil are well understood but rarely spoken here.
Being a fast developing centre of information technology, tourism and international trade, Kochi happens to be the commercial hub of Kerala and is counted among the fastest growing second-tier metros in India. Since Cochin is situated just 10 degrees north of the equator, the region experiences a moderately hot and humid climate the year round. The southwest monsoons cause heavy showers with thunder and lightning between June-September, whereas, the northwest monsoons cause drizzle between October and December. The average temperature of Cochin is between 20°C to 35°C.