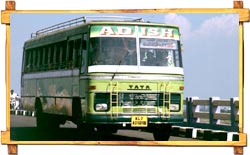 Cochin / Kochi, being an important centre for both trade and tourism in Kerala, is well connected by air, rail and road. The rapidly increasing number of domestic and international tourist traveling to Kochi every year is proof enough that reaching this exotic port city is very easy and hassle-free. Here's a general idea of how to reach Kochi and visit the travel places within and beyond this lovely city:
By Air
A number of domestic and international flights operate from the Cochin / Kochi International Airport located at Nedumbassery. They connect the city with the other major cities not only within India, but also across the entire globe. The facilities provided to passengers at the Cochin International Airport are so good that it is counted among the best airports in India.
By Road
Kochi or Cochin is situated at a distance of approximately 565 km from Bangalore, 223 km from Coimbatore, 848 km from Goa, 694 km from Chennai, 470 km from Mysore and 312 km form Ooty. Kochi's proximity and excellent road connectivity with these and other major tourist destinations in India make it a much sought after tourist destination.
By Rail
Trains running from the 3 railway stations in Kochi, namely Ernakulam Junction, Ernakulam Town and Cochin Harbor Terminus, connect it to all small and big towns and cities of Kerala and other parts of India. If you wish to tour at a leisurely pace, befriend co-travelers and taste the real flavor of India, then traveling by train is the best option for you.