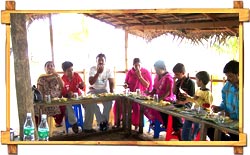 Cochin cuisines comprise an impressive assortment of mouth-watering vegetarian and non-vegetarian delicacies, having a distinct taste and flavor. And there are many good restaurants in Kochi serving these. Try out 'pachadi', 'thoran' or 'kaalan', while eating out in Cochin. As bananas are found in abundance here, it happens to be a very crucial ingredient in the majority of Cochin cuisines. Kallappams or Vellayappams are traditional rice flour pancakes eaten during meals in Cochin.
Being a port city, Cochin also offers a variety of rich non-vegetarian cuisine comprising of an impressive range of seafood delights like 'Meen vevichathu'. There's also a host of dishes made of chicken, lamb and fish. The rich base of coconut makes Cochin cuisine very delicious and gives it a special flavor of its own. Apart from these, there are also many fast food eating joints in Kochi like Pizza Hut, Chic King, Hot Breads et al. Or you can also try out the multi cuisine restaurants, where they also serve continental, Thai and Chinese.
Kochi Restaurants
Some regular restaurants serving local dishes are:
Sri Krishna Cafe (Gujerati road, Mattanchery) They serve amazing Stuffed Parotta & Vegetable Masala Dosa.


Art Café Here, you get really delicious Banana and Chocolate cakes. The coffee served at the café is also pretty good.


Arya Bhavan All kinds of basic Tamil food is served here


Palms Restaurant (Metropolitan) It is bit expensive, but the menu includes really authentic and sumptuous local cuisine.


Some other good restaurants in Kochi are Salt N Pepper, Solar Café, Fort House Restaurant and Kashi Art Café.
Eat at multi-cuisine restaurants in Kochi like:
Pandhal on MG road is a family restaurant. They also have an attached pastry counter.


Renaissance on MG road offers Continental, Chinese and Thai food, apart from Indian dishes.


Tharavad is located on Willingdon Island. This is Casino hotel's coffee shop and a variety of cuisines are available here throughout the day.