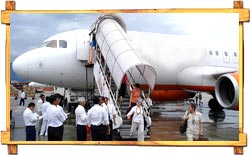 Name:
Cochin International Airport Limited (CIAL)
Terminals:
Domestic and International
Location:
Nedumbassery, Kochi
Kochi airport, formally called the Cochin International Airport, is the first aviation venture in India that is owned by the public. In other words, it is the first international airport in the country that lies outside the purview of the Government of India. Mooted in 1993, this airport is a state government sponsored project with public participation mostly from Keralite Non Resident Indians (NRIs). It is owned by the Cochin International Airport Limited (CAIL).
The Cochin Airport is spread over a plot of 1300-acre and boasts of having India's second longest runway of 3400 metres. Its domestic terminal has 100,000 square feet of built-in area, whereas, the international terminal occupies 140,000 square feet. Another impressive feature about Kochi airport is that it is located very close to all the three National Highways passing through Kerala i.e. NH-47, NH-17 and NH 49.
The main railway line from Kanyakumari to Delhi is also adjacent to the airport, which is situated between the Alwaye and Angamaly railway stations. The Cochin seaport, which is among the largest in the country, is also situated nearby. Cochin International Airport offers the passengers a variety of facilities such as:
Air Insurance Counter
Banking And Exchange Services
Duty Free Shopping Arcade
Free Baggage Trolleys
Free Porterage Service for the Old, Infirm, Handicapped and Unaccompanied Ladies / Minors.
ISD / STD / Local PCOs
Postal Facility
Pre-Paid Taxi Service
Public Convenience and Water Coolers
Restaurant
Snack Bar Counters
Tobacconist Shop
TR / Book Stalls