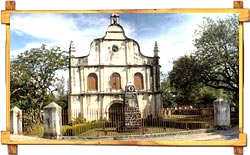 Location:
Fort Kochi
Highlight:
It is a landmark edifice built by the Portuguese, where the body of late legendary explorer Vasco da Gama was originally buried
How to Reach There:
Once you land in Kochi, hire a cab, auto-rickshaw or bus to reach Fort Kochi, where this church is located.
St Francis Xavier's Church at Fort Kochi was built in the year 1503, by the Portuguese traders. They came here with Admiral Pedro Alvarez de Cabral, via the same route taken by the legendary Portuguese explorer Vasco da Gama, who landed at Calicut in 1498. The Church is actually a quite modest, unpretentious structure. Architecturally, this church is not very jazzy, but it stands as a landmark of history and church architecture of India. Later, many churches were built in India keeping the Saint Francis Xavier Church of Cochin in mind.
Initially, the church was a simple wooden structure, dedicated to St Bartholomew. In 1506, the Raja of Cochin permitted the Portuguese Viceroy, Dom Francisco Almedia, to reconstruct the structure in stone. The new church was completed in 1516 and was dedicated to St Antony. The ownership of the Church of St Francis Xavier then passed into the hands of the protestant Dutch, who captured Kochi in 1663. They converted it into their government church and it remained in the possession of the Dutch until 1795.
Thereafter, its ownership passed to the British, when they captured Kochi from the Dutch. The church became a protected monument in 1923, under the Protected Monuments Act of 1904. In 1947, the congregation joined the Protestant Church of South India (CSI). St Francis Xavier's Church is also famous because Vasco-da- Gama, the first European to discover a route to India, died here in 1524 on his third visit and was buried in this church. Though his remains were shipped to Lisbon after 14 years, the gravestone is still seen here.