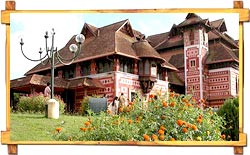 Location:
Cochin, Kerala
Highlights:
Light and Sound Show, Gallery for Paintings & Sculpture and Dolls Museum
How to Reach:
Once you land in Kochi, you can take a taxi, auto rickshaw or bus to this place.
Timings:
10.00 am to 12 noon and 2.00 pm to 4.00 pm. (Closed on Mondays)
Do not take the Museum of Kerala History in the Cochin city of Kerala as any ordinary museum. The significance of this 'live' museum lies in the fact that it recounts the history of the land through magnificent and informative light and sound shows. Here, one can see the depiction of stories based on the lives of 87 prominent personalities who were instrumental in shaping the course of Kerala's future. A popular haunt for tourists, locals, students and intellectuals, the Museum of Kerala History highlights everything, spanning from the time of the early people of Kerala to the modern age.
There is a special emphasis on the social, cultural and literary aspects during the narration. The history of Kerala is represented in 36 visuals through the light and sound shows and it covers the entire history over the past 2000 years. The names of some topics in the light and sound show are Early People, Nannan of Ezhimala, Senguttavan and Ilango Venmani, Ay Andiran of Pothiyilmala, The Aryan Immigration, St. Thomas, Shankaracharya, Kulasekhara Alwar and Cheraman Perumal Nayanar.
Kerala History Museum was the brainchild of R Madhavan Nayar, the late managing trustee of the Madhavan Nayar Foundation. He was a prominent industrialist, philanthropist and a pioneer in Sea Food Export Industry in India. He was a great art connoisseur also, which is the main reason why he got the museum built. Apart from the light and sound show, the other main attractions of the museum include a special gallery for paintings and sculptures. It mainly depicts the specimens of Indian contemporary art, ranging over a period of the last 200 years.
The works of the Company School of Paintings, the 'Matured' Bengal School, the Progressive Artists Group, Indian Abstract Act, Narrative painters and the Symbolic-Mystical Style are covered. The splendid Dolls Museum here needs a special mention. Perhaps the one of its kind in South India, this museum has a collection of 150 dolls. Each of them is handcrafted and hails from various different states of India, starting from Kashmir to Kanyakumari. The dolls, through their attires, hairdos and jewelry, reflect the socio-cultural tradition of the respective states.