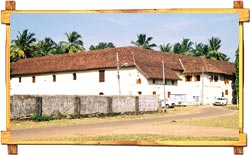 Location:
Cochin City
Highlights:
Intrinsically carved ceilings and mural in the rooms of the palace
How to reach:
Once you land in Cochin, you can take hired cars, taxis, auto-rickshaws, ferry and even hired bicycles to reach the Mattancherry or the Dutch Palace.
Timings:
10 am to 5 pm (Closed on Fridays)
Even though it is austere in its appearance, the Mattancherry Palace of Cochin has a quaint charm of its own. The credit for building this landmark monument partly goes to the Dutch, who captured Cochin city of Kerala during the pre-British period. This 'partly' is there because the Dutch, incidentally, were not the original builders of the famous Mattancherry Palace. Infact, this edifice was built much before the Dutch even thought of adding Cochin to their colonial possessions.
It was the Portuguese who, after grabbing Cochin from the Dutch, had initially built the Mattanchery Palace in 1557. They, then, gifted it to the Raja Veera Kerala Varma of Cochin, as compensation for a temple they had destroyed, and also as a bribe to gain favors from the ruling dynasty. It was later, in 1663, when the Dutch wrestled Cochin from the hands of the Portuguese that the palace shifted hands. The Dutch revamped the Mattancherry Palace, which is why it is also famous by the name of Dutch Palace.
The Dutch palace remains more or less the same in structure and appearance even today. Its facade is fairly unornamented and is made up of stark white walls, sloping roofs and trees around it. It is a two-storied, quadrangular building, with a small temple dedicated to the deity Palayannur Bhagwati in the central courtyard. On either side of it are smaller shrines dedicated to Lord Krishna and Lord Shiva. The central hall on the upper storey was once used as venue for coronating Cochin's Raja and has an intrinsically carved wooden ceiling.
Not surprisingly, the center of attraction of the Mattanchery Palace is not its ceilings, but the splendid murals on the walls of the rooms. Depicting scenes from Hindu mythologies like the Ramayana, the Mahabharata and the Puranas, these murals are counted as amongst the best in India. The Dutch Palace of Kerala has many more elements of surprise for visitors. There's an entire gallery of royal memorabilia that consist of attires, turbans and weapons, from the days of the rajas of Kochi.