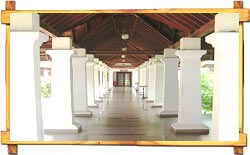 Location:
Bolghatty Island, Cochin
Highlights:
Oldest existing palaces built by the Dutch in India
How to Reach:
Once you have landed in Kochi City, you can reach the place with the help of hired cars, taxis, auto-rickshaws or ferry.
The splendid Bolghatty Palace is located on the Bolghatty Islands, in the Cochin city of Kerala. The appeal of the palace lies in the fact that it is among the oldest existing palaces built by the Dutch in India, during the pre-British times. Kochi has long been one of the important trading centers of India, attracting traders and seafarers from far and near. In 1744, the Dutch traders built this palace, initially as a villa. Later, the villa was extended and lush green gardens were added all around it.
During those days, the Bolgatty Palace sued to serve as the Dutch Governor's residence. Later, in 1909, the palace was leased to the British, who turned it into a residence for the British governors. In 1947, after India gained her independence, the Bolghatty Palace of Cochin became the property of the state and was later transformed into a heritage hotel resort. Also referred to as the Hotel Bolgatty Palace, it is now under the administration of the Kerala Tourism Development Corporation (KTDC).
Set in the middle of a fabulous garden, the palace has slowly metamorphosed into an esteemed heritage hotel. With the spectacular backwaters of Cochin as the background, the scenery around the palace is simply breathtaking. Hotel Boghatty Palace is a two-storey building, with tastefully decorated bedchambers and a huge lounge, wherein historical portraits are displayed. The hotel proffers executive suites, deluxe rooms and honeymoon & lakefront cottages along the edge of the backwaters for tourists to stay.
Other services provided to the guests at the hotel comprise of a mini golf course, swimming pool, Ayurvedic centre and daily Kathakali performances. Being an important city of south India, Kochi (Cochin) is a hub for tourists. Once you land here, you can take a ferry ride to reach the Boghatty Palace located in the Boghatty Island. The ferry service is frequent and it is just a five minutes ride across the magnificent backwaters.