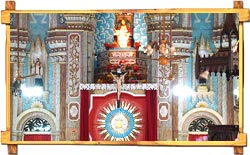 Location:
Vallarpadam islet, Kochi
Highlights:
Picture of Virgin Mary and the feast of Vallarapadath Amma
How To Reach:
It will take 45 minutes from Ernakulam to reach St Mary's Church at Vallarpadam, by boat.
Vallarpadam is a cute little islet located in the middle of the Cochin backwaters. This islet is a major Christian pilgrim center because of the St Mary's Church situated in the eastern region. It stands like a gem on the island's physique. St Mary's Church of Kochi was built in 1676 and contains a famous picture of the Blessed Virgin Mary. This picture was installed here by Portuguese missionaries, who had brought it from their native land. It is believed to have some miraculous powers.
History has it that before St Mary Church, there was an old church here, known as the Church of the Holy Spirit. However, it got destroyed in floods during the 17th century and a new church was built on the same spot in 1676. With this, Saint Mary's Church of Vallarapadam came into existence. Pope Leo XIII declared it as a special church in the year 1888. Later, the Union Government declared it as a major pilgrim center in 1951. It was recently on 12 February 2005 that this church was given the status of a basilica.
Saint Mary Basilica is reverently referred to as the "Vallarapadath Amma" and is believed to have miraculously saved many people's lives from shipwreck and violent storms. Every year, on 24th September, the feast of Vallarapadath Amma is held here. It's a weeklong celebration and is accompanied by a huge fair, in which products, like country boats, cars, pots and straw mats, are traded. This seven-day festival witnesses participation from people of all religion. The prayer offered at the St Mary's Church of Cochin is very unique.
Pilgrims offer oil and candles here. Many pilgrims also take away some oil from the church to be put it on the body, as it is believed to bring relief from pains. They believe it's some potent ointment that helps in protection from accidents and illnesses. Being an islet, Vallarapadam can offer access only through water. To solve this problem, a new-bridge-road, known as the Goshree Bridge, is being built here. It will connect several islands with the Church and thus, help tourists and pilgrims in easy transit.