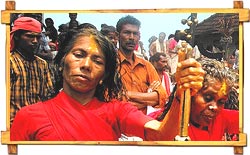 There are many theories pertaining to the migration of Jews to the Cochin city of Kerala. As per one such belief, the people of the Jewish community migrated to this port city in the first century after the second temple of Jerusalem was destroyed in the 72 AD. The Jewish community gradually settled in and around Mattancherry and Kochi. There's still a decent Jewish population in Cochin, which religiously observe their various Jewish festivals and customs till date. Here's some information on the Jewish festivals celebrated in Kochi / Cochin.
Passover Festival
Celebration Time:
March / April
Passover
festival of the Jews is celebrated during March or April. Though sometimes referred to as the spring festival also, the Passover is originally associated with the escape of the Israelites from slavery in Egypt.
Pentecost
Celebration Time:
Usually the 50th day of Passover
Pentecost is celebrated on the 50th day of the Passover. It is said to be an Old Testament festival, associated with agriculture and seeks to welcome the inception of the spring season. Later, during the early New Testament period, Pentecost started getting celebrated, in honor of God's creation of His people.
Feast of Tabernacles
Celebration Time:
September / October
It happens to be one of the oldest festivals of the Jews and is celebrated in Cochin City with lots of gaiety. It is known as the Feast of Ingathering in the Bible. In Hebrew, it is called the Sukkoth.
Jewish New Year
Celebration time:
September / October
New Year is not a time of revelry for a Jew; rather it is a pious season for self-assessment and judgment. Bay of Atonement is the second day following the Jewish new-year and it is the most solemn day in the Jewish calendar.
Hanukkah
Celebration time:
November / December
Another important festival of the Jews, celebrated with gusto in Kochi, is the Hanukkah or the Festival of Light.