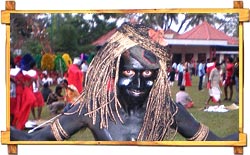 Center of Activity:
Fort Kochi
Time of Celebration:
Last week of December
Main Attraction:
A massive procession of caparisoned elephants, games and partying
If there is one festival the whole of Kochi impatiently awaits every year, then it's the Cochin Carnival held in the last week of December. Fort Kochi is decked up like a bride and tourists, not only from within the country, but also outside, flock to this lovely port city to participate in the revelry. The inception of the Kochi carnival can be traced back to the Portuguese New Year revelry, held here during the colonial days. Gradually, it evolved to take the form of what is today popularly called the Cochin Carnival of Kerala.
Preparations generally begin months in advance for hosting the unique games, fairs and partying during the Carnival of Cochin. Dressed up in fancy dresses, everyone, children in particular, is seen bursting with enthusiasm. The highlight of the carnival is the massive procession on the New Year's Day. Led by an embellished elephant accompanied by drums and music, the carnival is a moment to behold. There is also staging of different South and North Indian folk dances during the festivity.
Color white simply dominates the concluding 10 days of December, during the Kochi Carnival. All establishments in the city don white paper buntings. The available space on the streets host impromptu competitions and multi-faceted celebrations. Kalam Vara (floor drawing), tug-of-war, bicycle race, swimming in the sea, beach volleyball are some of the programs that take place during the Cochin Carnival at Fort Kochi. The festivities and revelries continue till midnight of December 31st with fireworks marking the grand finale.