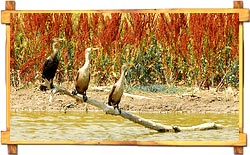 Location:
Ernakulam
Highlights:
This bird sanctuary is home to many varieties of resident and migratory birds
How to Reach:
You can take taxi, auto-rickshaw or bus to reach Eranakulam. The bird sanctuary is located behind the High Court building.
Best Time to Visit:
Mid-January to Early-March.
Mangalavanam is a popular bird sanctuary frequented by tourists, bird lovers, ornithologists as well as locals. It is located in the heart of the Eranakulam region of Kerala, adjoining the backwaters and the Arabian Sea. The area happens to a roosting place for exotic varieties of resident and migratory birds. Mangalavanam, infact, is a mangrove area consisting of a shallow lake in the middle, with its edges covered with thick mangrove vegetation.
This water body is connected with famous Kochi backwaters via a canal. In the heart of this lake, there is a small island with mangrove growth. Mangalavanam bird sanctuary of Kerala became prominent because of its lush mangrove and the resident and migratory birds that come here. It's understandable then why people refer to this belt as the 'green lung' of Ernakulam, which is otherwise polluted by its various industries and vehicles.
Earlier, a timber yard also operated in this area and it exported timber to foreign countries. But at present, no such activity is carried out here. A guesthouse located in this region was revamped in 1986 and regular staffers were appointed to protect the birds in this sanctuary. Tourists coming to Mangalavanam bird sanctuary put up at the forest guesthouse, the government guesthouse, the PWD rest houses and the numerous private lodges in Ernakulam.