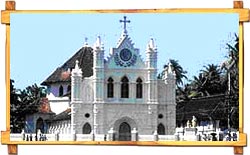 Location:
About 47 km from Cochin
Highlights:
A church built by Jesus's apostle, St Thomas
How to Reach:
The Cochin International Airport is at a distance of 15 kilometers from here and Angamaly railway station is 17 km away. This site is quite well connected by road too.
Located approximately 47 km away from Cochin city of Kerala, Malayattoor is one of the most important pilgrim centers for the Christians in India. The place is known throughout the world for its Catholic church, dedicated to the famous apostle of Jesus Christ, St Thomas. It is situated on top of the Malayattoor hill at a height of approximately 609 m. The festival of 'Malayatoor Perunnal' held here during March /April every year sees thousands of devotees from all over the globe visit this site.
St. Thomas, upon reaching Kodungallur in 52 AD, took up the initiative to begin a Christian community in Kerala. He was the one who set up this church here, which, with time, came to be referred as the St Thomas Malayattoor Church. The popularity of this church can be gauged from the fact that the Vatican has designated it as an international shrine. St Thomas later built churches at many other places in Kerala, like Kollam, Kodungalloor, Nilakkal and Niranam. However, St Thomas Malayattoor Church is the most popular amongst all.
People mostly come to this church to seek spiritual satisfaction and inner happiness. Every year, on the first Sunday after Easter, thousands of pilgrims come to this shrine to seek holy blessings. Being a blend of a number of architectural styles, like Greco-Roman architecture with a traditional Greek styled altar, the architecture of St Thomas Malayattoor Church seems to be very engrossing to visitors.
The facade of the Malayattoor church has been made in the typical Roman Catholic architecture style. The church interiors are embellished with beautiful carvings, designs and paintings depicting the life story of Jesus Christ. There are proper facilities for confession and adoration in the Malayattoor church. There's also an ancient pond that was used for baptism purposes. Not to be forgotten is a traditional looking pulpit considered to be very important historically.