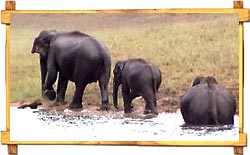 Location:
About 50 km from Kochi Highlights: Elephant Kraal, a zoo, and the annual festival at the Malayattoor Church How to Reach Here: Taxis and buses take approximately 90 min to reach Kodanad from Kochi. Nearest railway station is Aluva, situated 28 km to the west of the village and the nearest airport is the Cochin Airport at Nedumbassery.
Kodanad is a beautiful village located about 50 km from the Cochin city of Kerala. Though there are various factors that together enhance Kodanad's significance, the primary reason is the sheer natural beauty of this belt. The village is also renowned because of its famous little zoo, Elephant Kraal and because of the fact that it provides an easy access to the annual festival at the Malayattoor Church. The zoo and the church are located opposite each other, on the banks of Periyar River.
Rustic and unspoilt! This is how you can aptly describe the scenery in and around Kodanad village. It's simply amazing how this plain rural riverside entices locals, tourists and pilgrims the whole year round. Surprisingly, Kodanad does not miss out on its share of glamour quotient also, as this place is frequently haunted by TV crews, film and documentary makers. There are many walkways alongside the river and they offer a unique experience to most of the visitors arriving here.
Another unique attraction of Kodanad village is that it is the only elephant-training centre in the entire state of Kerala. It specializes in training the stranded baby elephants from the wild. A decent number of people turn up at the center simply to watch the baby elephants in their infancy. As many as four to six baby elephants are brought in and trained in Kodanad every year. The training ground, known as Kodanad Park, also offers elephant safari to its visitors. Even today, the old 'Kraal' style to house elephants is used here.
It consists of wood compartments, which can accommodate as many as four elephants. The 'mini zoo' shelters wild animals, which have become unfit for survival in the local forest and some inmates of the zoo are of very rare species. In order to preserve the beauty of Kodanad in its natural state, the Government of India has included this place in the list of Ecotourism destinations. As a part of this project, the Kaprikkad village, which lies 3 km away from Kodanad, was built to entertain tourists in the most natural and environmental friendly manner.