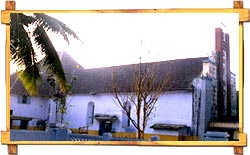 Location:
About 42 km from Ernakulam
Highlights:
A Hindu temple, a church, a mosque and the remains of a Jewish synagogue
How to Reach:
The nearest railway station from here is Ernakulam, located about 42 km away. The nearest airport is Cochin International Airport, situated 20 km away. Chendamangalam is also well connected by road.
Comprising of three rivers, seven inlets, hillocks and green pastures, Chendamangalam is an amazing little town. It is located in Paravur Taluk of the Ernakulam district of Kerala. Tourists touring Cochin also explore Chenda Mangalam to see the magnificent Paliam Palace. The palace is a sheer architectural splendor and was once used as the residence of the Paliath Achans, who were the hereditary prime ministers to the former Maharajas of the erstwhile state of Kochi.
Paliath Palace is more than 450 years old and still holds an array of historic documents and relics. Anybody visiting Chendamangalam is also sure to visit the hillock at Kottayil Kovilakom. Its uniqueness lies in the fact that it acts as a common site for a Hindu temple, a church, a mosque and the remains of a Jewish synagogue. Infact, all these edifices are located within one km of each other. The Jewish synagogue was built in 1614 AD and the courtyard behind this synagogue has old Jewish graves, including that of a Jewish woman dated 1264 A.D.
It is said that the Jews came to Chenda Mangalam in Kerala after the final destruction of Jerusalem in 69 AD and founded a colony here. They later moved to Fort Kochi located in the Kochi city of Kerala in 1341 AD, after the great flood. Remains of Jewish existence can still be seen around Chendamangalam in the Chendamangalam synagogue, which is adorned with traditional architectural features. You will also find remains of the Vypeenakotta Seminary built by the Portuguese during the 16th century.
Adjacent to this seminary is an old Syrian Catholic Church, built in the year 1201. The famous Hindu temple, Sree Venugopala Krishna Swami Dewasthan, was established at Chendamangalam in 1900 AD. Earlier, this temple was known as Jayantha Mangalam. The main deity of the temple is Venugopalakrishna Swami. The temple celebrates six-days long annual festival in the month of Vaisakh. Sree Venugopala Krishna Swami Dewasthan temple of Chendamangalam is a huge attraction for both locals as well as tourists.