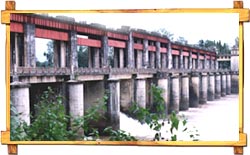 Location:
50 km from Ernakulam
Highlights:
An ideal tourist spot set amidst lush greens and the flowing waters of river Periyar
How to Reach:
You can hire a taxi, auto rickshaw or a bus to this place from Kochi.
Set amidst lush greens and Kerala's swiftly flowing Periyar River, Bhoothathankettu is a popular tourist spot. It is located about 50 km away from Ernakulam district of Kerala. Despite the fact that there is no rail route connecting Bhoothathankettu with other major or small towns and cities of Kerala, it is visited by people in large numbers. The nearest town of Kothamangalam is at least 10 km from here.
There's an interesting tale behind the naming of Bhuthathankettu Dam. The story goes that ages ago demons planned to drown the Trikkariyoor temple, whose presiding deity is Lord Shiva. The plan was to dam river Periyar and flood the area with its water. Lord Shiva came up with an alternate plan to foil their plot. He imitated the sound of a rooster, like it seems at the crack of dawn. With this, it appeared that dawn was approaching by.
Fearing the arrival of light, the demons ran away, leaving their task only half done. It is believed that even today, there is proof of the demon's half completed work. This proof comprises of the huge boulders the demons were supposed to have rolled down onto the riverbed, the Old Bhoothathan Kettu. Periyar River flows through the narrow space, which the demons did not quite manage to dam up. Hence, the name is Bhoothathankettu, meaning 'Fort of the Spirits'.
Once you've arrived at Bhoothathankettu, there are various activities you can indulge in. An upriver houseboat trip can accommodate upto 20 people easily. You can also opt for a ride on a speedboat, a tour of the jungle, rock climbing and fishing. This natural topography was much helpful in the building of the dam. Along with Bhoothathankettu, another place you can visit is the famous Salim Ali bird sanctuary, which is quite near from here.