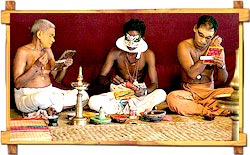 Flanked by the Western Ghats on the east and the Arabian Sea on the west, the port city of Cochin has long been a favorite destination for explorers, traders and seafarers. From time to time, this region witnessed successive waves of migration by the Arabs, British, Chinese, Dutch, and Portuguese, who came here mainly for the purpose of trade. Their presence and influence on Kochi as it is today called is not only visible in the numerous forts, churches and palaces dotting the city, but also in its lifestyle and demography.
Cochin, which gradually emerged as commercial and industrial capital of the south Indian state of Kerala, is virtually a melting pot of cultures. The city has a diverse, multicultural and secular community. Its population consists of mainly Hindus, Christians, Muslims, Jains, Sikhs, and Buddhists, among other denominations. In the present day Kochi, the denizens are a mix of people from different parts of Kerala and India. Here, Hinduism is the main religion, being followed by almost 47 percent of the population.
The majority of Kochi residents are Malayalis. There are, however, many ethnic minority groups also like Tamils, Gujaratis, Jews, Sikkimese, Anglo-Indians, Konkanis, and Tulus. As per a study conducted in the year 2001, the population of Kochi was 5,96,473, with a density of 6850.7 people per square kilometer. Scheduled castes and scheduled tribes consisted of approximately 4.3% of the city's population. The literacy rate of the Cochin was 94.3%.
Kochi has come a long way from being a major trading zone in ancient times. Today, it is also an important tourist hub in Kerala. The people of Cochin are very much inclined towards preserving and furthering their regional art and culture. As such, Kochi boasts of many of its denizens making a name for themselves, both nationally and globally. Some prominent personalities include K J Yesudas (singer), Sahodaran Ayyappan (social reformer), Pandit Karuppan (social reformer), Sreekanth (international cricketer) and Asin (model and actor).