Cochin Arts & Crafts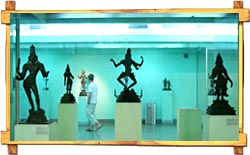 If there is one thing in particular you can cease worrying about upon reaching the port city of Cochin, it is shopping for mementos and gifts items. The local arts and crafts industry in Kochi is so strong that you will find numerous shops there selling handicraft items. Kochi artisans are very adept and the handicrafts they make have amazing preciseness. Since the price of most of these arts and crafts is quite affordable, these shops are one of the favorite haunts of the tourists. There is a wide range of handicraft items available in the Cochin markets.
You will find many items carved out of rosewood, like paper weights, lamp stands, book ends and also figures of elephants, tigers, deer, elephants, fishes et al. then, there will be bell-metal like utensils, lamps, bells and so on and ecologically sensitive art and craft items made of coconut shells like nut bowls, powder boxes, spoons and hookahs. Another not to be missed item is hanging lampshade, made from bamboo. Here are the names and addresses of some shops in Cochin you can check out for these arts and crafts items.
A.K.P. Metallodrome : Shanmugam Road, Cochin
Beauty Arts : Shanmugam Road, Cochin
C.I. Company : Broadway, Cochin
Cochin Ivory and Fine Arts : Mattancherry, Cochin
Crafters Antique : Jew Town, Cochin
Gujarath Emporium : Market Road, Cochin
Indian Curio Centre : Broadway, Cochin
Indian Industries : Willingdon Island, Cochin
Kairali Handicraft Emporium : M.G. Road, Cochin
Kashmir Gift Emporium : Cochin
Kerala Artisans Development Corporation : S.N. Junction, Cochin
Khadi Gramodyog Bhawan : M.G. Road, Cochin
Khataisons Curio Palace : M.G. Road, Cochin
Lawrence Handicrafts and Exports : Synagogue Lane, Jew Town, Cochin
Surabhi :M.G. Road, Cochin
The Jewels and Carpets : M.G. Road, Cochin
Unique Crafts :M.G. Road, Cochin