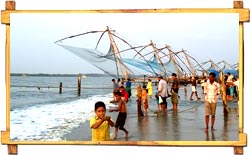 Location:
Fort Kochi
Highlight:
Relaxed ambience and clean sandy atmosphere
How to Reach:
You can reach Fort Kochi by road, rail or air. From there, the Fort Kochi beach is located at a walking distance. You can also take a boat or a jetty from the Boat Jetty.
If you simply wish to saunter in a peaceful and relaxed manner, no place in the whole of Cochin will provide you a more ideal location than the Fort Kochi beach. Nestled amidst coconut tress, green bushes and softly lashing seawaters, the Fort Kochi beach happens to be the favorite haunt of one and all. You will find not only the locals, but also the tourists basking up the tranquil atmosphere at the beach. Unlike most of the beaches, the topography of the Fort Kochi beach is quite rocky.
Fort Kochi Beach is regarded as one of the most beautiful places in Kerala. It is an ideal picnic spot for people, who come here either alone or in groups. If you have become too bored with the hustle and bustle of the city life, then this beach is the ideal getaway for you. Numerous cozy little restaurants and eating joints dotting the edges of the Fort Cochin beach provide the perfect option to those who want to grab a quick bite. The beach is also quite famous for its remarkable fishing nets.