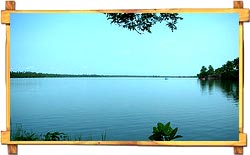 Location:
35 kms from Cochin
Highlights:
Water-scooter and Speedboat rides, Park for children
How to Reach Here:
The Cochin International Airport is located 20 kms away. The nearest railway station is at Ernakulam, situated about 40 km away.
Located 35 km away from Cochin, in the Cherai village of the Ernakulam district, the Cherai beach is amongst the must-visit places for anyone touring these parts of South India. Having a coastline of 15 kms, the Cherai beach is different from many beaches in the sense that it is very clean and shallow and thus, ideal for the purpose of swimming and sunbathing. Being so near from the main Kochi city, an important commercial capital of Kerala, the Cherai beach is an enticing option for anybody who wants to get away from the din of city life momentarily.
Thus, you will find many locals and tourists picnicking on the sandy shores of the beach, which stands surrounded by tall coconut trees and green paddy fields. Cherai beach is the golden beach of Kerala and is also famous by the name of 'Princess of the Queen of the Arabian Sea'. The main beach area has been newly added with the 400 meters long walkway. The high mask lamps along the edges of the walkway make the Cherai beach enjoyable even during the night. Apart from that, the beach is also well known for its fresh & delicious seafood.
Occasionally, people also see dolphins in the water. Cherai Beach is rightly considered as one of the most beautiful beaches in Kerala. It is a beautiful combination of sea and backwaters rimmed by lush green coconut palms and paddy fields. There is also a park for children on the beach. Tourists and visitors can also ride the water-scooter and speedboats, which are available here on rent. There are also a number of lodges and hotels in this area where you can put up. Generally, there is a lot of rush at the beach during the holidays.